We received our
Citrus Lane
box last week and I was super excited to see it! I always get so excited when I see it's addressed to Bunny. So cute!
If you are unfamiliar with
Citrus Lane
, it's a monthly subscription box for kids. They send you a box of 4-6 surprises every month for $25 ($21 if you pre-pay for 6 or 12 months). We age Bunny up, (so she can grow in to the products) so the box we got was for a 13-month-old girl. PS: if you sign up through my
referral
, you get $10 off your first box AND I get $10 off as well!
First Looks
The box was super light this month. At the beginning of the year,
Citrus Lane
announced they were going to stop doing monthly themes and just do them occasionally. As far as I can remember, this month was the first theme we've seen in 2013. The theme for this month's box was
"Fun in the Sun"
.
iPlay Sun Protection Hat
($15) The first item out of the box was this adorable bucket hat. It's rated SPF 50, which is awesome! It says it's for sizes 6-18 months, but it's HUGE on Bunny (who's actually 7 months) and fits Goose very well (she's over 2). I don't mind though. If one of them can use it, I'm happy.
Happy Family Happy Tot Plus Blueberry, Apple, and Purple Carrot Snack
($1.99) Goose is a huge fan of squeeze pouches, even though she thinks they're all applesauce. She will definitely enjoy this since Bunny is too young to eat this much. I'm definitely going to save it for a picnic at the park!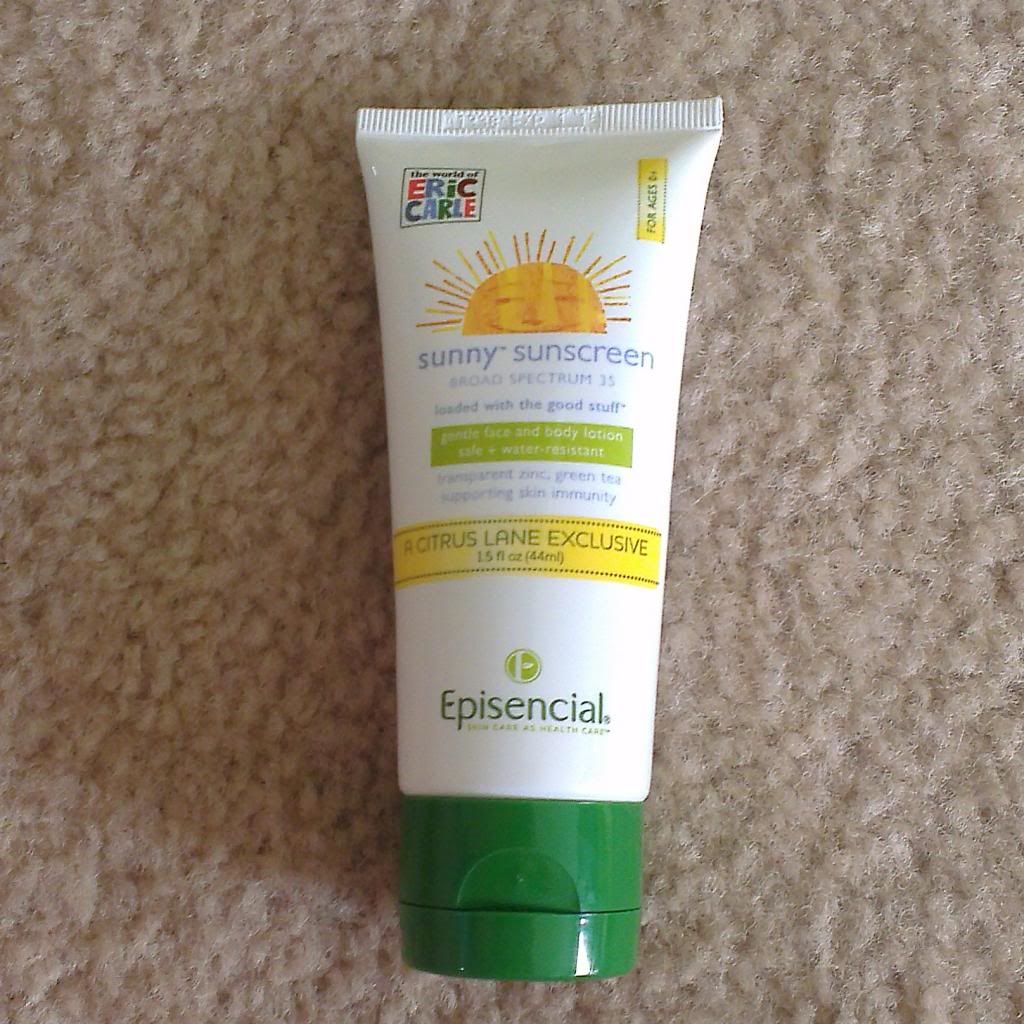 Episencial Sunny Sunscreen SPF 35
(approx. $7.50) We've gotten Episencial products in the past and been unhappy with them, but I'm willing to give it a try. I usually put SPF 50 on the girls though. We'll basically just use it because it's here. If it proves me wrong and blows me away, I'll be sure to tell you. Oh, the yellow sticker you can see on the tube says it's a "Citrus Lane Exclusive" meaning it's a smaller size... lucky us. The usual retail size is 2.7 oz, but we got 1.5 oz.
Haba Sand Sieve
($4.55) This is just your basic sand toy. Pour sand in, shake it out. Nothing special to me, but I'm sure we'll use it.
Overall, this month left me feeling underwhelmed. Maybe it was the return of Episencial products. There's definitely the feeling that something is "missing." I would have been happy with one more small thing, like a lip balm for me or a second snack for the girls. The total retail value for this box was
$29.04
. It's a good deal, but they could do better.
What do you think? A good box this month or hoping for better next month?
Disclosure: This post contains referral links to Citrus Lane. I bought the box; they didn't give it to me for review purposes (although I wouldn't turn them down). All opinions are my own. :)