So Daddycamp is underway, Museum Monday #1 is in the books, and so far WE ARE CRUSHING IT. We set a personal best for time spent at a museum yesterday, found a needed Pokémon for our pokédex, and learned something along the way!
So one thing I've found is that a great way to keep kids interested in a museum visit is to make it into a scavenger hunt. Here's the scavenger hunt we did yesterday:
Another hot tip: people think museums are closed on Mondays, so it's a great time to go and get a minimal crowd experience. We hit the Egyptian wing first to knock off the Sphinx of Hateshput and (for the first time in a while) got to explore it without being mobbed.
Next we hit a gallery I'd never been in (in the Thai art wing) to find the 18-armed Durga.I used the met website to find the galleries the art was in... I don't consider that cheating, it was still a challenge to find things. You just have to get to the gallery and then tell the kids to search for the specific pieces.
We had lunch at the American Wing Café, and the Daddycamp "no snacking" policy paid immediate dividends when the kids ate (and enjoyed) a quinoa/arugula/tri-color carrot salad for lunch! Plus I got to tell them there was a god around in the American Wing atrium, and got to watch from afar as they searched and used their reading skills to find the statue of Diana/Artemis. We headed out for a quick playground break, but found the Perseus/Medusa statue on the way out:
After hitting the playground on 85th and 5th (Fun spot if you can deal with losing track of where your kids are exactly), we went resumed the hunt. The kids put up a little resistance, but the pull of finishing the scavenger hunt (and getting the associated prize points) did the trick to get them back in it. We hit the Greek and Roman galleries looking for gods and found a Hermes and another Artemis, but kept it moving. Constant motion and not lingering too long kept it interesting for the kids.
Passing through the Oceania gallery, we found this giant 20 foot monster headdress from Papua New Guinea as "something that surprises you":
Next we hit the modern galleries and Lyric found Roy Liechtenstein's "Stepping Out" all by himself:
So with 5 out of 6 pictures found, we intensified our hunt for Gods and Goddesses in European paintings. We found a few Venuses (Veni?), and this awesome Odillion Rédon picture of Pandora we thought Mommy would love. So we all sat and drew a version of it: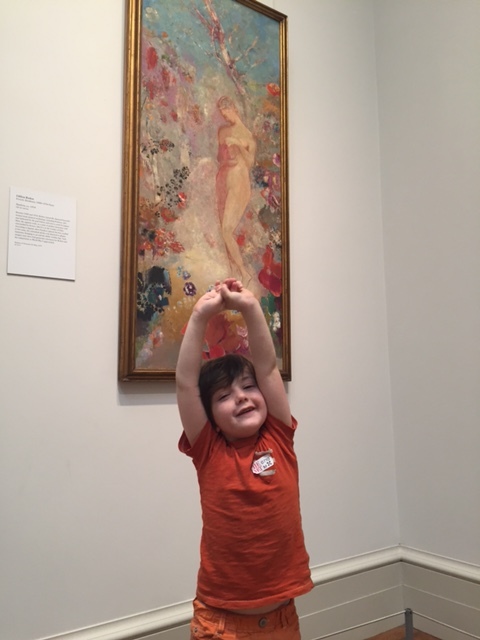 It looked like the kids were losing steam at this point, so we decided to just find the last picture (Pan by Riccio) and call it a day. But a funny thing happened in that last gallery: it turned out there were plenty of gods depicted in art there! We picked up a Minerva, a Mars, a Vulcan, a Jupiter, and a Neptune! That just left a Bacchus and a Juno, and Zephyr found a Bacchus in the next gallery! So re-energized, we consulted the met website to find our last missing goddess: Juno. And it turned out there was a Juno andiron in a secret gallery way in the back of the museum!
We completed the scavenger hunt, and the kids were AMPED about it! I awarded them 50 prize points each, because when things were hard, they tried harder and didn't give up.
We left a little after 4 (more than 6 hours at the museum!) and in a sign of approval from the gods, found a desperately needed Pokémon, Forretress. Thank you based NYC Pokemap. We walked through Central Park and went to friend's soccer birthday, and when we finally got home wrote down what we had learned that day:
So one day of Daddycamp down, more to come! Stay tuned!